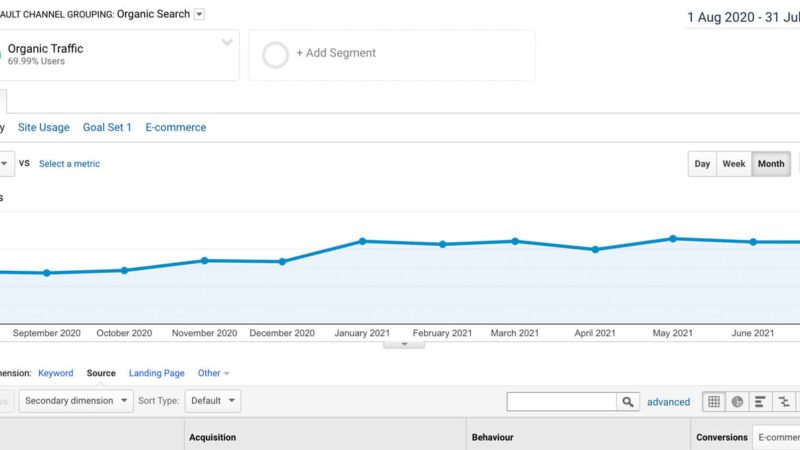 +53% Organic Traffic for 
Health

 Shopify Store
The Client
This client is a well established Shopify store in a competitive health niche. They had been publishing content, building links, and conducting keyword research but were looking for additional growth in traffic and sales.
The Plan
We started by analysing the clients website along with top competitors which found a number of issues and opportunities to work on.
This website had upwards of 10,000 pages which brought with it a lot of issues with thin content, automated pages, and low quality content.
There was also very little internal linking between product category pages, which presented a quick opportunity to begin increasing rankings.
Beyond that, it was a challenge of prioritising which pages to focus on, then updating keyword research and On Page factors. This client already had quite in depth content, so we primarily focused on better optimising this for their target keywords.
The Execution
Our initial crawl data revealed hundreds of tag pages, over a hundred empty product category pages, and a number of low search value pages that could be removed and/or noindexed. This improves the overall quality of the site.
For internal linking, we implemented user-friendly links to subcategories, same silo categories, and parent categories to establish a clear site topic structure and spread the benefits of existing backlinks. We also fixed breadcrumbs for product links.
The majority of work was going through hundreds of product category pages and popular products to conduct keyword research, optimise the pages, then monitor results for refinements.
The idea was to focus on driving additional traffic to the bottom of funnel pages (products and product categories) before expanding into the blog traffic. We did this via keyword research, working with their writers to expand pages, and then optimising fundamentals, headings, and content based on competitor analysis.
The Results
There's no huge traffic jump in the rankings, but comparing from the campaign start you can see a 53.18% increase in users, 40.67% additional orders, and 22.16% growth in revenue over 10 months.