+172.43%

 Organic Search Revenue for PC International
The Client
PC International is a popular brand and online store in South Africa for purchasing computers and laptops in-store and online.
They'd worked with a couple agencies before but hadn't really had the results they were expecting, and were looking for an agency that could help drive more organic revenue and rank for some of the more competitive keywords in their industry.
The Plan
We start every campaign by reviewing the existing website, opportunities, and competitors to strategise what to do.
We call this our "growth plan" and it pretty much directs our entire campaign.
In this case, we found the client had a serious number of technical SEO issues caused by their WooCommerce setup.
By default, they had every filter/option set up as a unique page. This created a great opportunity for expanding keywords, but also created a messy situation with hundreds of pages causing keyword cannibalisation and arguably low quality content.
Beyond that, there was a good depth of content across most product category pages, but not particularly of the best quality. This presented opportunities to re-optimise most of their core pages, in many cases including fundamentals such as title tag and H1.
Another overlooked opportunity we noticed was internal linking, many products and categories were hidden behind so many clicks they were rarely getting crawled and difficult to rank for anything.
Finally, the client hadn't published any blog posts, which we saw as a massive traffic opportunity.
The Execution
1. Big technical clean up resolving keyword cannibalisation, thin content pages, 500 error pages, etc. This increased crawl efficiency and overall site quality, plus user experience as a number of links mistakenly led to error pages.
2. Targeting major keywords on the homepage, including "pc" (out of top 100 to #4) and computer store (out of top 100 to #3).
3. Re-optimised category pages prioritised by traffic, potential, and revenue. Some notable results are top 3 rankings for "gaming pc south africa", "ssd", "lenovo laptops", "gaming laptops south africa", and more.
4. Internal linking between relevant products and categories. This helped us land some rankings like "ssd", "ssd hard drive", and "ssd sale".
5. Created middle of funnel blog content to drive traffic and sales. Now ranking for keywords like "best laptop brands south africa" #1, "best laptops in south africa" #1, "best budget laptops south africa" #1, etc.
6. Created targeted outreach campaigns to land relevant links to blog content or products/categories where possible.
The Results
Comparing the organic traffic from the month before we started to 10 months later today, shows a 129.84% increase in organic search traffic. And organic revenue shows an increase of +172.43%.
This is clearly represented in Google Analytics, Google Search Console, and even third-party tools like Ahrefs.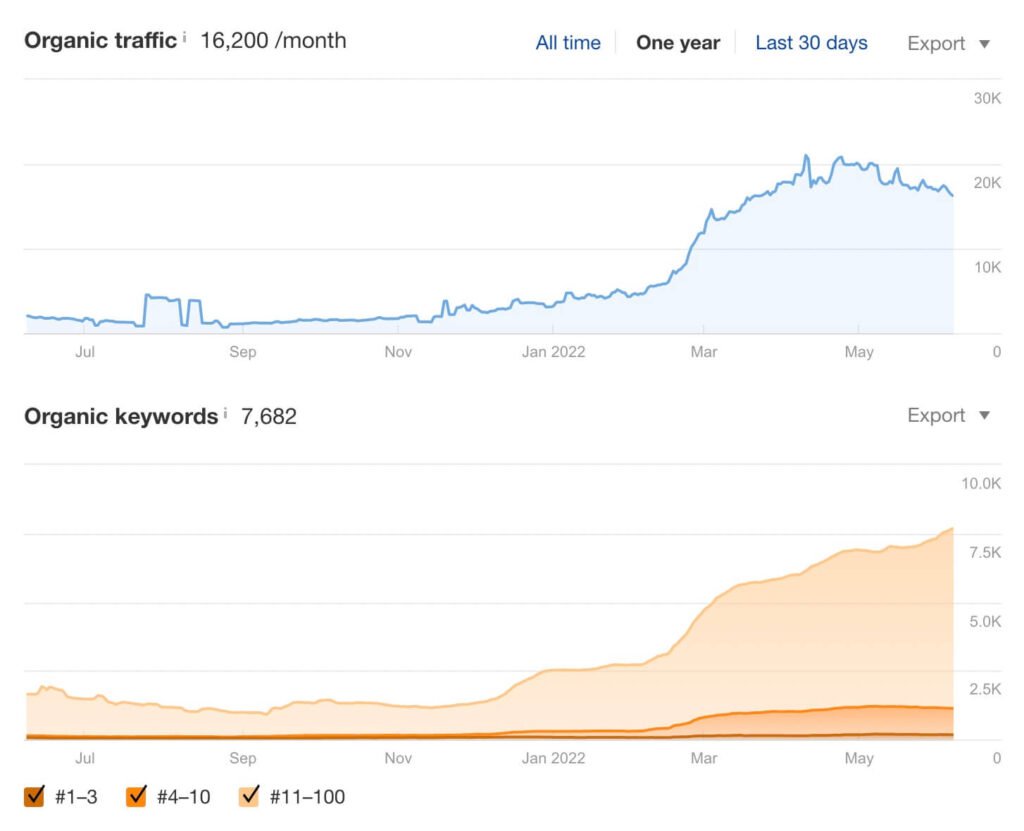 Ahrefs also shows the huge impact we've had so far on the overall website, not just select pages. The majority of our campaign so far has been on improving the overall website quality and architecture to drive more site-wide traffic.
Now there's a huge number of first page rankings, we'll be prioritising moving those up to positions 1-3 for even more significant growth.
Overall, the campaign has been a huge win for the client, and there's plenty more potential.